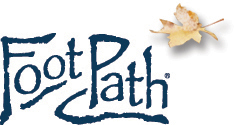 Foot Path Insoles help you get more life out of your shoes-and more out of your life! Scientifically engineered and constructed of the finest-quality materials, Foot Path products increase comfort, reduce foot and leg strain, and allow you to be more active. Run, bike and hike a little longer. Work on your feet all day without having to sit on your couch all night.
Foot Path Insoles give you freedom from aching feet. Plus, Foot Path Insoles prolong the life of your favorite shoes. They still look fine outside, but inside they're cracked, flattened, and less comfortable than they used to be. Bring them back to life and enjoy renewed comfort with Foot Path.
The secret to Foot Path Insoles' remarkable comfort is biomechanical engineering designed to absorb shock and superior materials that wick away moisture and retain their shockabsorption capabilities. Foot Path products are manufactured from Poron® 4000 advanced cellular urethane.
Foot Path Insoles and Foot Path Footwear Accessories are truly The Comfort Path. For sizes and ordering info, click here. For additional information, contact a Foot Path representative at 1-877-631-9040.
Power Strider FP-202
The Power Strider features a rugged design for superior support and extended wear, plus polyester suede fabric to provide maximum comfort. Power Strider helps prevent injuries and reduces foot fatigue—perfect for people who need support all day.
Park Avenue FP-208
The Park Avenue is most economical, functional insole on the market. Sculpted contour arch design fits dress shoes and flats, providing
outstanding cushioning without crowding shoes.
Order Online